It's our most premium craft beer box to date!
Packed with a mix of mega craft beers from both inland and overseas, the Mór Beast Craft Beer Box will appeal to those who know a lot about craft beer. The breweries featured are among the best in the world, and the box includes beers that retail for more than £10 per beer.
This box includes 2 of our beautiful Craft Metropolis beer glasses, with 1/3, 1/2 and 2/3 markings.
Oh….and FREE next working day postage is included in the price!
A recent box included
1. Equilibrium Brewery (New York) – Solar Fluctuation Double IPA (8.5%)
2. Equilibrium Brewery (New York) – Stratasphere Double IPA (8.5%)
3. To Øl CPH (Denmark) – Unusual Alien West Coast IPA (7.5%)
4. Pomona Island (Pomona Island) – 1952 Vincent Black Lightning Double IPA (8.5%)
5. Alvinne (Belgium) – Land Van Mortagne Quadrupel (12.8%)
6. Verdant (Cornwall) – Comfort Settings Double IPA (8.0%)
7. Gamma Brewing Co. (Denmark) – Slick Film Imperial Stout (12%)
8. Left Handed Giant (Bristol) – West Coast Pils (5%)
9. Seven Island Brewery (Greece) – Hazelnut Moctezuma Imperial Stout (13%)
10. Wander Beyond (Manchester) – Mango Monkeys Imperial Mango Berliner Weisse (13%)
11. Amundsen (Sweden) – Chaos Theory: Galaxy/Strata IPA (7.0%)
12. Mondo (Battersea)– Homing From Work IPA (6.2%)
13. Pressure Drop (North London)– Escape the City NEIPA (6.5%)
14. S43 Brewery (Durham) – Happy Little Accidents IPA (6.8%)
15. 2 x Craft Metropolis beer glasses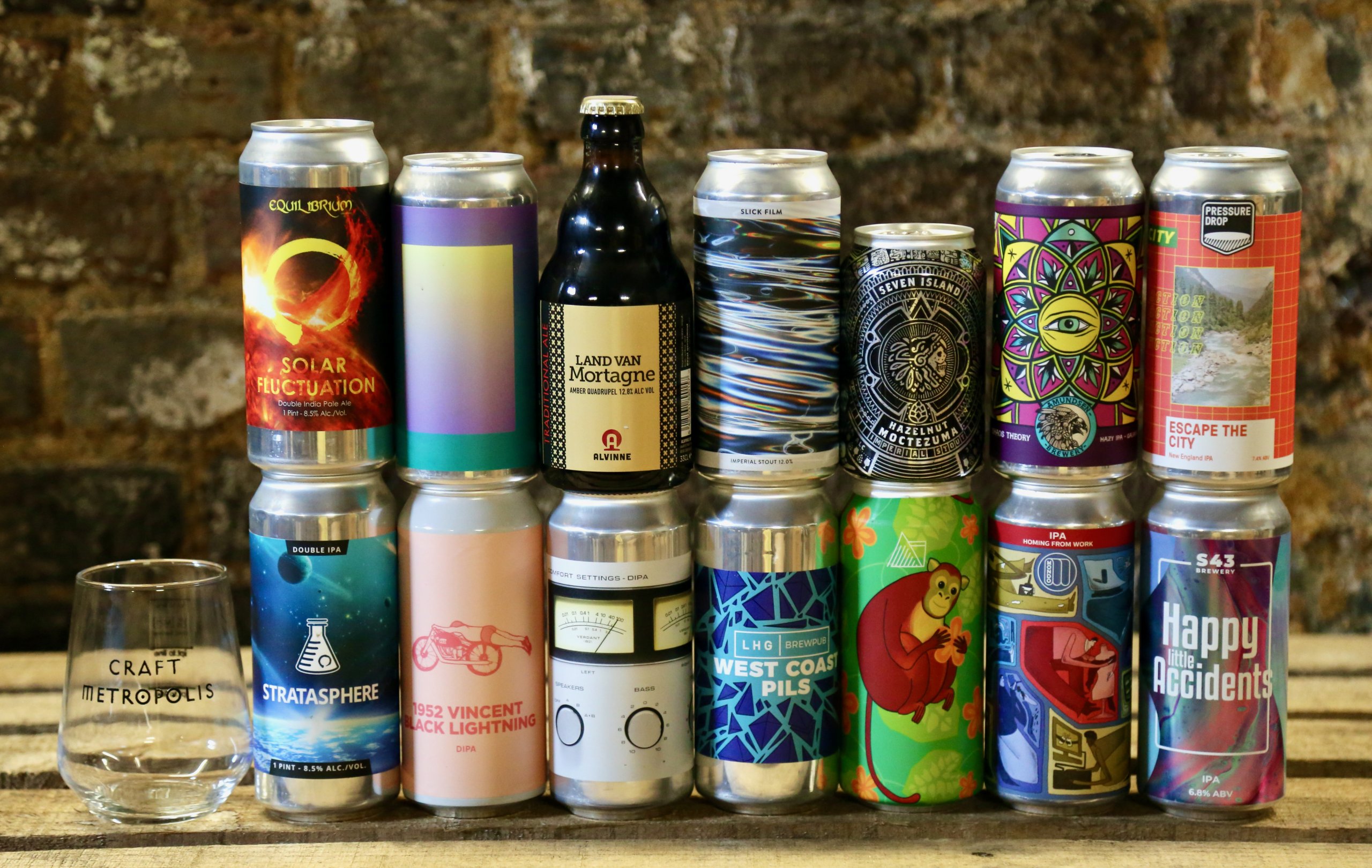 T&Cs:
The above image is for illustration purposes. We will endeavour to deliver the beers pictured, however, when availability makes that impossible we reserve the right to substitute any of the beers pictured with beers of equal or better quality. The final box will always be of the same or superior quality as the example pictured above. The image was from an actual Mór Beast Craft Beer Box. The box may be a mix of 330ml and 440ml+ cans and/or bottles. We pack and protect glasses with significant protection but should breakages occur we will refund the value of the glass(es). We are unable to ship replacements.
***IF YOU ADD ANY EXTRA BEERS TO YOUR ORDER WE WILL SHIP IN THE SAME BOX UNLESS YOU SPECIFY OTHERWISE, THANKS***